Distance education schools - Thane
Thursday, 29 October 2020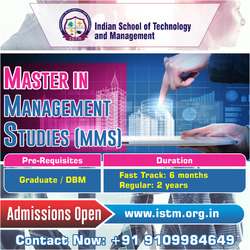 Contacts

ISTM

9109984649
Item description
ISTM is a Upgrad leading management institute in India offers Diploma, Advance Diploma, Fast Track Programs, Best Online Certificate programs in India, Best Distance Learning School in India

ISTM paves a path to early success in life through its fast track short duration correspondence courses. These courses consist of concepts and case studies that provide broad exposure to relevant business concepts and management specifics. This helps them to get started as Managers by enhancing their productivity, capability to formulate business policies, strategies and their implications for the organization.

At ISTM, the upgrad courses are designed for those who have burning desire to pursue a career in business and management. The students will get upgrad without disrupting their current career progression and earning. Such candidates can opt for the flexible Management courses at ISTM and get qualified by short duration at their own place.